FIND YOUR FIT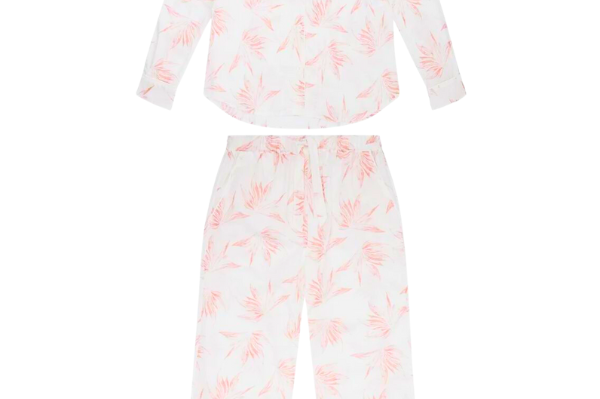 Long Pyjama Set - Deia print in White/Pink
A sensible option when the in-laws are about. The Long Pyjama Set is a nod to the time-honoured pyjama set – our most tailored fit, yet still modern. The shirt is a little shorter than our signature style, and goes down the classic route with a sculpted hemline, buttoned cuffs and piping detail on the rounded lapels, pocket and cuffs.
Although great for day-time lounging with their deep pockets and elasticated waistband with tie, you'll be impressed by how well the bottoms perform in bed. Being slightly tapered means they won't ride up throughout the night, no matter how much you toss and turn.
---
30 day free returns on all retail purchases
Free shipping on orders over £75
5 Trees planted with every order
What if my item isn't right?
No worries! Simply contact us within 24 hours of receiving your order to let us know.
When will my order be delivered?
Your delivery will be sent Standard UK Delivery (2-4 Working Days) via Royal Mail.
Details
Delivery

Get your delivery in 1-2 working days. We currently ship UK-wide, including the Channel Islands and Northern Ireland. Check your order status for your Royal Mail tracking number.
Returns

We offer a 30 day returns policy on all items from our retail store with the exception of beauty products, knickers and briefs. To process your refund please complete this short form and send back your item(s) using the free post label enclosed.